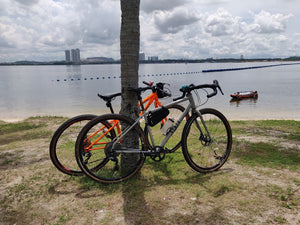 Riding from Bukit Timah to Sembawang Park
We were getting bored of the usual route that we usually take up to Kranji Way. Then, we remembered one of our rides that we did a few months back on our Bromptons that took us right to the water's edge at Sembawang Park.
I had been eager to test out a new handlebar bag, a 3L Sahoo (pictured below) that retails for around $25. 
The idea was to see how many beer cans & sandwiches we could stuff in it.
Took the usual route up Upper Bukit Timah Road -> Mandai, and veered off Ulu Sembawang PCN, linking up with Woodlands Avenue 12 PCN, Admiralty Road and finally arriving at Sembawang Park.
It was a really sunny afternoon, so we took shade under a coconut tree, overlooking the beach, cracking open our beers. Cheers! 🍻
---