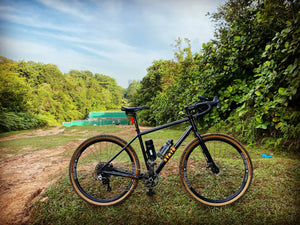 10km gravel loop at Bukit Timah (with Google Map navigation link)
While we have to admit that there's just not a lot of options for proper gravel riding in Singapore, did you know that there's a simple 10km "gravel" loop around Bukit Timah Nature Reserve? Well, parts of it are gravel, and the rest are a mix of dirt trails and public asphalt roads. Its a decent ride, with a good combination of small climbs, technical descents and flat gravel sections plus if you go during off-peak hours, its pretty empty.
Read on to find out more, or if you prefer, we've also put a link to the entire loop on Google maps for easy navigation on your phone at the bottom of this article.
Starting at the junction of Dunearn Road & Rifle Range Road, enter Rifle Range Road and keep riding for around 2.3km until you see the entrance to the School of Ammunition (Rifle Range Road Camp 2) and there will be a small trail going off the road sharply to your left.
Follow this trail and it brings you along what is commonly referred to as the "Pipeline" trail. Its an open area and commonly accessed by both hikers & cyclists.
Keep going until you reach Belukar trail. It gets more gravelly from this point until you reach the exit at Chestnut Avenue. Turn left onto Chestnut Avenue, and ride until the traffic light, where you will make another left onto Petir Road.
At the junction of Petir Road and Dairy Farm Road, turn right and its a long downhill until the traffic light junction with Upper Bukit Timah Road. Turn left, and go all the way, passing by the Rail Mall, old Bukit Timah Fire Station, Bukit Timah Nature Park entrance and several other landmarks before the road transitions to Jalan Anak Bukit.
At the junction of Jalan Anak Bukit and Dunearn Road, turn left and you will be back where you started. Do a few loops if you like, or extend the loop by venturing down the various other trails like Chestnut Mountain Bike Park, Track 15 or Bukit Timah Mountain Bike trail if you're really feeling gung-ho! 
Click here to get this loop on directly Google Maps.
---